Don't shoot yourself in the foot … have a trading backup plan.
Trading backup plans are essential but often overlooked. As I see it there are 2 scenarios you need to plan for:
Computer failure from hard disk crash, accident, etc.
Internet failure from ISP outage, power blackout, etc.
The Internet failure is a minor inconvenience – as long as your can get out of any open positions. On the other hand, the computer failure can be serious. You can lose months of hard work and it can take weeks to restore your data and computer configuration.
Do you know that feeling in the pit of your stomach when you've lost literally 1,000s of hours of work? Start shouting obscenities at Bill Gates? Then you realize you've got literally days ahead of you trying to rebuild you computer. Oh boy, never again.
So here's my Simple 5 Step Trading Backup Plan:
1. Use your trading platform's auto-backup
The better trading platforms all have built-in, automatic backup functionality now. TradeStation, my preferred trading platform, allows you to backup pretty much everything: indicator & system code, charts & chart settings, hotkey & order configurations, historic data, etc.
Scheduling regular backups will allow you to get back to speed quickly after a catastrophe. Personally, I run the auto-backup function weekly – at 4am on a Sunday – and backup everything except the data cache. That way, it's done before the week starts.
In TradeStation, use this sequence of commands to set your backup: File > Backup/Restore TradeStation > Backup TradeStation > Select Weekly > Select All > Untick "Data Cache" > Tick Schedule Automatic Backup Job > Select 4am, Weekly and Sunday > Close.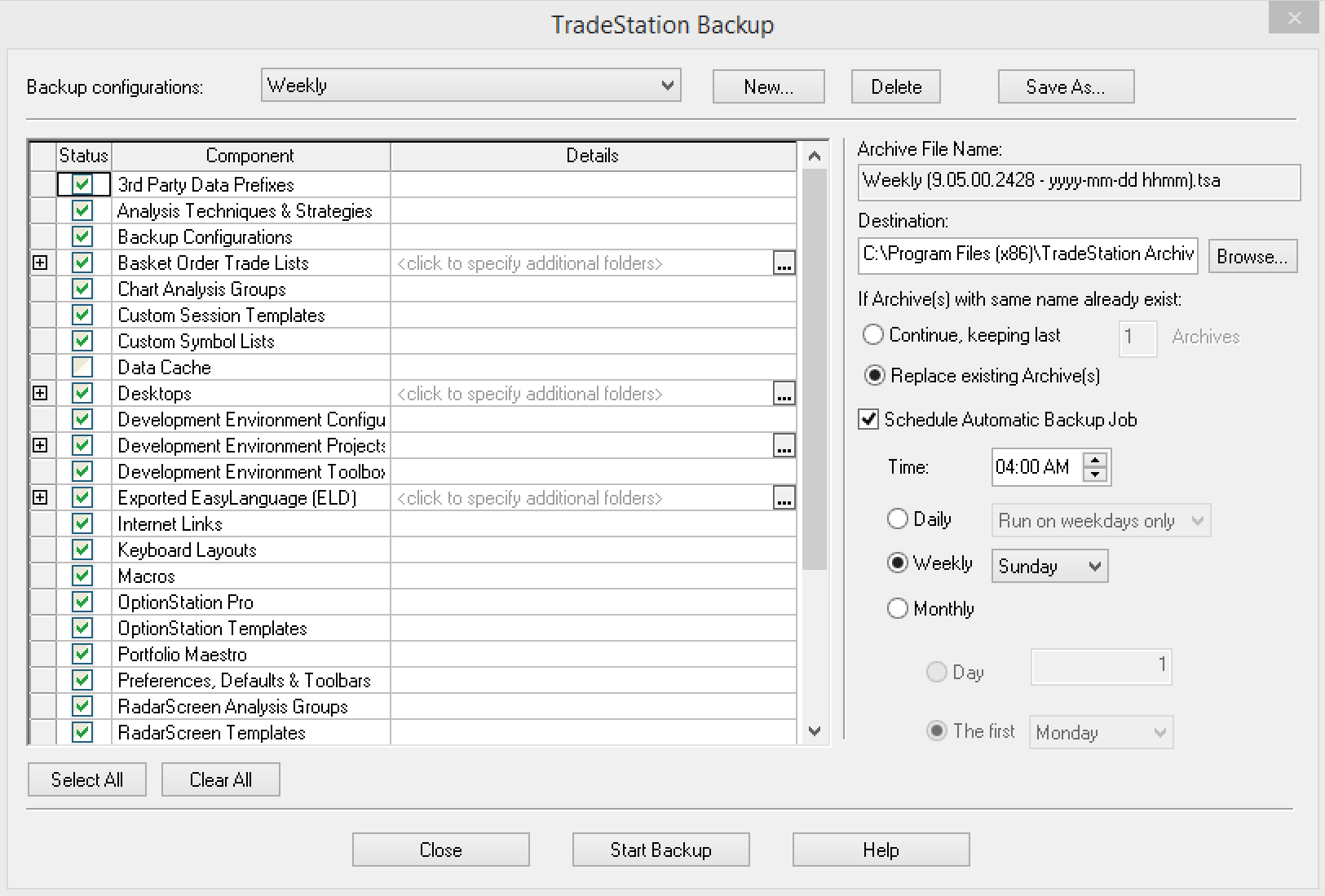 Auto-Backup Settings in TradeStation
Your settings should look like this image above. Run the backup once to check it's location and then check the first backup that runs automatically, to make sure everything went OK.
Remember, your TradeStation needs to be switched on for the auto-backup to work!
But you're not finished there. Most likely, your trading platform backup files are not stored in the cloud, they're stored on your hard drive. So you can still have a hard disk crash and lose the backup files. Right? So you need to follow Step #2.
2. Subscribe to an online backup service
I know external hard drive backup devices are very popular and cheap these days. But I avoid them like the plague.
What if the external hard drive gets corrupted? What do you do if you're travelling? What if you have a fire? What if you are burgled? The thief usually grabs everything – the backup drive too!
But fire and theft are the least likely catastrophes you'll encounter. You know what's more likely? You let "Little Johnny" play online computer games and he'll accidentally download some hideous, crash-inducing virus. Or worse yet, you'll do it yourself – mucking around with some setting.
There is a much better way. Online backup services. They're:
Simple to operate and restore in the event of a catastrophe
Work in the background, backing up as you go, not just once-a-day
Very convenient if you travel a lot, and
Cheap ($55 a year)
And if your backup stops working for whatever reason – the online backup service will send you a polite email letting you know that you should check your backup settings.
There are 2 major providers – Carbonite and Mozy – and I've used them both. Frankly, there's little to choose from between the two. But I now use Mozy and I'm very happy.
Update September 2010 – Hard drive recovered
Well, it finally happened to me. In fact it happened to my wife – but I'm tech support for the team, so I had to deal with it. My wife's computer hard drive became corrupted and had to be fully erased. No opportunity to rescue files. Plus we were overseas in France at the time.
But it didn't matter. I had the operating system disks and all her documents were backed up on Carbonite. Re-formatting and re-loading the operating system took about 2 hours. Another hour to load programs from online versions. Then her Carbonite document backups were transferred back overnight.
3. Use "cloud computing" applications
"Cloud computing" is a relatively new concept. Instead of having all your applications and data on your computer, cloud computing involves using web-based applications and keeping your data on Internet servers (or "in the cloud"). In it's simplest form – all you'd need is an Internet browser.
Now, some people are dead against this. They cite security issues, privacy issues, trust issues, etc. And they may be right. But there are huge benefits too. Here's how I use one of the most powerful "cloud computing" applications – GMail.
GMail allows me to receive emails at home, in an Internet Cafe or on my mobile phone. The storage capacity is virtually unlimited and it's all free. For emails I wish to keep, I just hit "Archive" and they're out of my inbox and safely saved away. The search functionality within GMail is so powerful I don't bother filing emails into folders. They all just sit in the Archive.
I save important information like passwords and account details this way. Any communication regarding my trading accounts, including statements, are just filed away at the stroke of the keyboard – and accessible anywhere. If my hard drive crashes I can find the information with just an Internet or mobile phone connection.
And if there are any particularly useful documents, like TradeStation EasyLanguage code I've written and want to store safely, then I just attach them to an email and send the email to myself and archive.
Last suggestion. Try using the Google Chrome browser. Any website bookmarks you have can then be saved and synced with your GMail account.
Update May 2011 – Backupify

If your GMail account gets hacked it could be deleted and you could lose all your emails. I've started using a backup service for GMail called Backupify.
It only costs $3-4 per month and it is very simple and intuitive to use. The service has changed a little of the years and is now focussed on enterprise customers. So to backup your GMail you access the service through a Google Apps account. But you should be doing this anyway, rather than just relying on a free GMail account.
Anyway, with this very neat and inexpensive service you can backup:
GMail, Google Drive, Contacts and Calendar
Box, Salesforce and Smartsheet accounts
Facebook and Twitter social activity
Alternatively, rather than using your GMail email address, buy a domain name and set up your own email addresses. Then forward these emails to GMail, which you use to receive and send. In this way copies of the emails will always be captured and saved by your domain host.
4. Use a broker with "server side" orders
Now, what about an Internet connection failure? You could spend a lot of money and time building redundancy into your trading setup. For example, having an alternate high speed Internet connection or backup power supply.
But the simplest solution I've found is to place your stop and profit target orders (as an OCO pair) automatically when you enter the market and use a broker who keeps your orders "server side".
What this means is that as soon as your buy/sell order is executed, a pair of linked profit target and stop loss orders will be sent to the broker's servers. These orders will sit there until either one is hit and as soon as one is hit, the other is cancelled. That's why it's called an OCO (one-cancels-other) order.
The beauty of this is that these exit orders no longer rely on your Internet connection being up. The orders have been sent and they now sit on the broker's servers – which are almost guaranteed to always be connected to the exchange.
Not all brokers have this "server side" order handling. I use Interactive Brokers and it works. However, I've heard from followers and customers that not all broker order entry systems have this functionality. Check first.
For a fuller explanation with video check out this article on Server Side Order Handling.
Update October 2011 – Mobile phone hotspot
At home and whenever we're travelling I always insist on the best possible Internet connection – fast (12+ Mbps) and reliable. Very occasionally the Internet connection will not work because of a provider outage.
Lately, as a workaround, I've been testing using my mobile phone as a portable hotspot. You need to be subscribed to a data service from your mobile provider and have a suitably spec'd mobile phone.
I use a Nexus 5 running Android and just go to the settings and switch on the portable WiFi hotspot capability. I can run up to 5 devices and the data speed is good enough to run TradeStation. Just make sure you're not using an expensive data service or this option becomes impracticable.
5. Keep your broker's number handy
Lastly, sounds obvious but keep a post-it-note or printout of your broker's trade desk telephone numbers plus your account numbers and passwords close to your trading computer.
That way, as soon as you encounter a problem, you can phone in, check your position and decide to exit or keep your stop and profit target orders in.
Fellow traders will always tell you their horror stories about how slow their last broker was to answer the phone or how stupid they were. However, in my experience, whenever I've had to call my broker the response was almost instantaneous and helpful. Sure, plan for the worst but sometimes you might be surprised.
Summary
This article should have convinced you to:
Use your trading platform's auto-backup. This "no brainer" suggestion takes 3-minutes to action and then you're setup for good. So check out your platform's manual.
Subscribe to an online backup service. Yes, this option costs a little bit of money. But the peace-of-mind is priceless. It's a modern solution to a modern problem.
Use "cloud computing" applications. We'll always have disagreement about security versus convenience, but right now the "cloud" argument is winning.
Use a broker with "server side" orders. Possibly the most important suggestion in the Backup Plan. So go check out your broker's forum or call their tech team.
Keep your broker's number handy. You'll be stuck if your Internet goes down and you can't do a Google search for your broker's contact details. Write them down.
So if you've not got a backup plan or have been thinking about it and just haven't got around to it … just do it. Follow this Simple 5 Step Trading Backup Plan.