Using TradeStation as my charting platform always stopped me switching from a Windows computer to an Apple Mac – well not any more!
I made the move over 5 years ago and have never looked back. If you've ever wanted to get off the Microsoft treadmill but were a TradeStation die hard (like these traders on Big Mike's forum) then this feature article will help you take the leap. Read on.
"I found your site when my Dell crashed last year and I was searching for info on running TradeStation on a Mac. Without your generous guidance I would never have made the switch to a MacBook Pro." Joe Russo, Elliott Wave Technology
"Just a short note of gratitude regarding your idea of Mac/Parallels/TradeStation. What a fantastic concept. I just purchased a MacBook and Parallels. Downloaded TradeStation and it works like a charm. It's faster than my desktop, probably due to the Mac SS disc drive. So again, thanks." Rick W.
When I finally ditched my Dell computers, I opted for the gorgeous Apple MacBook Pro 17. This is a nicely spec'd 17″ screen laptop with 4GB RAM standard that I upped to 8GB. I spend half the year travelling so a laptop was the only logical choice. I'm also not a fan of multiple monitors so a decent size and quality screen was a must.
Please note, the advice below should work equally well for laptop and desktop Apple Macs.
To run TradeStation on a Mac you need Parallels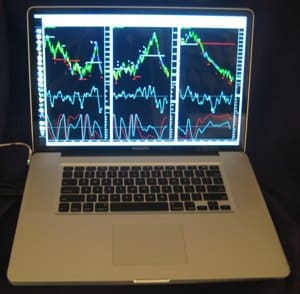 Running TradeStation on a Mac relies on emulation software. The best is Parallels Desktop for Mac (now on Version 10). This very clever software allows you to run the Windows operating system simultaneously with the Mac operating system. It's rock solid and fast.
Two caveats though. First, to run emulation software like this on a Mac, you'll need one that has an Intel CPU (i.e. a recent Mac). Second, Parallels runs OK with 2 monitors but anything more than that and performance degrades with noticeable lag.
Although I opted to run the latest version of Parallels on my Mac it's not your only choice. VMware Fusion is a competitor but in my research the reviews were not as favourable. Macs also come with a built-in utility called Boot Camp. This allows you to partition the hard drive and install Windows along side the Mac operating system. The only drawback is that you can't run the two operating systems simultaneously, unlike Parallels.
Then once you've loaded Parallels on your Mac, you install a current version of Windows (Version 8.1 works well). From inside Windows, launch Internet Explorer, then download and install the latest version of TradeStation (now on Version 9.5). And you'll be able to run TradeStation on Windows, inside Parallels on your Mac. It's seamless.
TradeStation performance on a Mac is excellent
So that's how to run TradeStation on a Mac. What about the performance on a Mac? Boot up and chart opening times are very acceptable (and getting quicker with every update of Parallels and Mac hardware). Here are the stats when I first switched to a Mac (with my latest Mac they're probably 30% better):
40 seconds to start the Mac
3 seconds to start Parallels
60 seconds to start Windows 7
10 seconds to start and log into TradeStation
15 – 30 seconds to open one of my complex tick bar charts, and
1.5 seconds to open any other minute, hourly or daily chart.
Not bad. In addition it handles opening multiple, complex charts all-at-once and no crashes running TradeStation on the Mac. Something that plagued me frequently on my Dells running Windows.
I have a feeling that chart opening times, particularly tick bar charts, are more dependent on the speed of your Internet connection than the speed of your machine. These tests were run in Sydney, Australia, on a good broadband connection. But bear in mind, there's still the slow hop across the Pacific that adds a delay for me.
The Pros of TradeStation on a Mac
So here are the Pros I see in running TradeStation on a Mac:
It works. No crashes and fast.
Able to open multiple tick bar charts simultaneously.
Real-time chart updating is fast too.
No fan noise and cool – to be honest I don't even know if there is a fan!
And then there are the usual Pros of running a Mac. Most of us from the PC-world are familiar with these – we've seen the ads, right! But the things that have struck me are:
It just works – networking, installing/uninstalling applications, etc.
Beautifully engineered hardware, no joins, no nooks and crannies to get dirty.
Very quick start up at about 15 – 30 seconds.
Seamless integration with iPhone, iPod, iPad, iTunes, etc.
Yes, no doubt Windows 7, 8, etc. have brought Microsoft a long way. But Apple's holistic approach and superior engineering has resulted in a machine that almost runs Windows-native software better and faster than on a Windows machine! The Windows machine makers should be embarrassed.
The Cons of TradeStation on a Mac
OK. Enough of the Apple-gushy-enthusiasm. There have to be some Cons, right?
Well, yes. But rather than seeing these as Cons of running a Mac, I view them as adjustments I need to make. So here's my list:
New keyboard layout means re-learning or re-assigning hotkeys. In TradeStation this allowed me to totally re-think my hotkey settings, so in time I should be a little faster. But then there are all the Mac-specific commands too.
"Finder" for managing documents and files is not as easy as Windows – at least at first glance. Yes, there are some nice graphic features like "Cover Flow" but I'm into speed and hotkeys. "Spotlight" (Command+Space on the Mac) appears to be a much faster way of accessing documents, files, applications, web, etc.
Apple-native versions of applications need to be found and functionality re-learned. And this takes time. Don't underestimate the time you've invested in becoming proficient running programs like Word, Excel, etc. The Mac versions are different – in some cases, very different. Or jump straight into the Google Docs suite of cloud-based programs.
The latest "retina" (high definition) display resolution that Apple is pushing on all it's hardware, is wasted on TradeStation. "TradeStation is hard-mapped and does not scale like a normal graphics program." What this means is that if you set your display to "retina" definition with TradeStation, the lines (text characters, all graphic elements, etc.) will just be thinner – not any higher definition.
So it's back to the classroom for a little homework. Scott D. recommended this book for PC switchers: Switching to the Mac – The Missing Manual by David Pogue.
Installing TradeStation on a Mac step-by-step
Before you start moving your TradeStation onto a Mac you'll need a full version of MicroSoft Windows 8.1 ($120). An upgrade version is not good enough as Microsoft sees this as a brand new installation. You'll also need a copy of Parallels Desktop 10 ($80) as discussed above.
Then here are the steps for moving TradeStation from an old PC to a new Mac:
Export your own ELD files from TradeStation (File > Import/Export EasyLanguage > Export EasyLanguage > Etc.)
Backup your TradeStation workspaces and settings (File > Backup/Restore TradeStation > Backup TradeStation > Etc.)
Copy these EasyLanguage and backup files, plus any purchased DLLs that live in the TradeStation Program folder, to your Mac
Install Parallels Desktop on the Mac
Start Parallels and install Windows
Within Parallels and the Windows OS start Internet Explorer
Log into your account at TradeStation.com and download the latest version of TradeStation (Client Login > Login > Download TradeStation Platform > Etc.)
Start TradeStation and import your own ELD files into TradeStation (File > Import/Export EasyLanguage > Import EasyLanguage > Etc.)
Restore your TradeStation workspaces and settings (File > Backup/Restore TradeStation > Restore TradeStation Archive > Etc.)
Move any purchased DLLs back into the TradeStation Program folder on your Mac
Check your Analysis Groups (Format > Manage Analysis Groups > Etc.)
Re-assign your hotkeys, see below (View > Hotkeys > Etc.)
Make sure two finger scrolling is working in Parallels (Settings > Hardware > Untick "Enable smooth scrolling")
Lastly, I'd suggest installing an anti-virus/anti-spyware program in your Windows OS. My personal favourite is AVG because it's light-weight, fast and less than $20.
Here are my new TradeStation hotkey settings
The Mac keyboard layout forced me to re-think my hotkeys. Here's what I'm using:
File > Close Workspace = W
File > New Window = Ctrl+N
File > New Workspace = N
File > Next Workspace = Fn+Right
File > Open Workspace = O
File > Previous Workspace = Fn+Left
File > Save Workspace = S
Format > Format Symbol = F
Pointers > Window Tracking = \
Pointers > Workspace Tracking = ]
Tools > Scroll One Page Left = Alt+Down
Tools > Scroll One Page Right = Alt+Up
Tools > Scroll to the Beginning = Alt+Left
Tools > Scroll to the End = Alt+Right
There you go. Just some initial thoughts on trading software for Mac and running TradeStation on a Mac. So far I'd rate it 9.5 out of 10. The only downside is the time it takes to adjust.
Summary
This article should have convinced you that:
TradeStation works well on a Mac. Not only is it possible to run TradeStation on a Mac but it's fast, stable and easy. I'd rate my experience of running TradeStation on a Mac between 9 and 9.5 out of 10. And make sure you get a Mac with SSD.
Parallels is the best emulation software solution. The secret is to use Parallels Desktop software to run the Windows operating system simultaneously with the Mac operating system. If you use Boot Camp you can't run the operating systems concurrently.
Performance is solid. Boot up times and real-time chart refresh rates are fast and certainly no worse than on a Windows operating system machine.
But adjusting to a Mac takes time. You will need to re-learn and re-assign hotkey settings in TradeStation to make allowances for the different Mac keyboard layout. Plus you'll have to find and adjust to all the Mac-native software, like Word, Excel, etc.
And you might want to consider a 27″ display. The MacBook Pro 17″ screen is great for trading and travelling. However, the 15″ MacBook Pro screen is a little on the cramped side. Since I'm getting older and I don't want to ruin my eyesight, I'm thinking about using a larger display.
And thank you to all the Emini-Watch followers who contributed Mac trading suggestions.