All out of sync with my updates and emails. Apologies – all because of the awkward time zone trading here in Sydney. (Link to yesterday, in case you missed it)
Know thyself …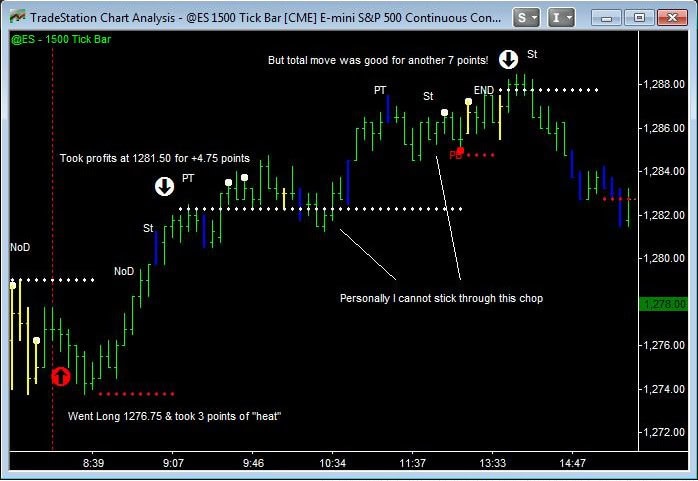 Had a strong long bias today and tried to beat my "bete noire" – trending up days. I think I had some success – got out with 4.75 points – although the move was good for another 7 points!
I just gotta face it – I like taking profits. And will never be able to hold through the chop of an 8-10 point move. Oh well, like those canny Greeks say: "know thyself".
Video of the day …
Another excellent piece by Paul Jay of Real News Network – an interview with Larry Wilkerson, Chief of Staff to Colin Powell. Showing up the mainstream media, once again – boy have they lost the plot (tapping phones, obsessing about celebrities, choosing pretty over perceptive). At the 9:30 mark, Larry Wilkerson says:
"That's generally what Empires in decline do … the attention begins to go to the management of trouble on the fingers of that Empire … while the rot occurs at the very core – and that's what's happening to us right now."
If you liked that then check out: Part 2, Part 3, Part 4, Part 5, Part 6 and Part 7.
Quotes of the day …
From Ruggero Z.
"Hi Barry, it is since about one year that I am following every little detail and news on your site. I have to say that in this world of darkness you seem to be a bright example, at least for me, and what you are doing helped me really to get into my new profession. I believe, that without you, or somebody like you, I would have given up already for some time. (and giving up is not one of my strong parts, but loosing money neither) But as you can see I am still here and, surprisingly, making money, which means you have been very successful. (sorry for my basic English, mother language German)"
Fantastic – another trader making it full-time.
And from David D.
"Hi Barry, I hate to say it but, come the Revolution, I think us traders will be amongst the first against the wall … nice people or not. Most people don't know the difference between what bankers do and how we earn our keep. So let's make hay while the sun shines!

On the serious side of things, I'm happy to report that I've hit 4 points on 4 out of the last 5 trading days – my most consistent performance to date. And after having a very bad month in May, it feels like I'm finally making good progress. So a big thanks for all your guidance and knowledge. I couldn't do it alone! All the best."
Have to agree David – whenever they start blaming the "speculators" – it's just so shallow. Shows no understanding of how markets work, what speculators do and they just swallow the line that politicians feed them, hook, line and sinker.
Good luck with your Emini trading.