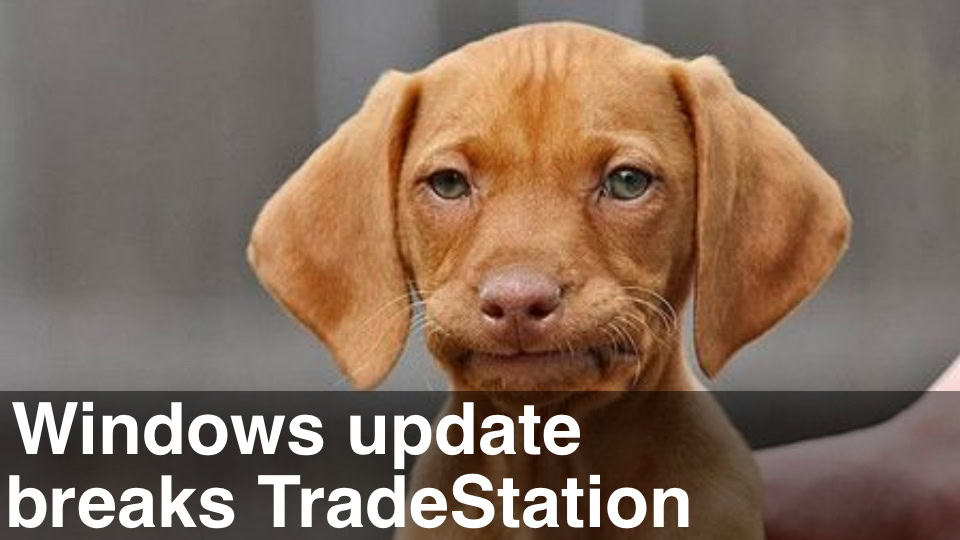 Yesterday (Friday 5 January 2018), my Windows 10 system automatically downloaded and installed a patch to "fix" the recently discovered 'Meltdown' vulnerability. But as soon as Windows re-started, my TradeStation stopped working!
TradeStation had put around an email warning this might happen on Thursday, so this wasn't unexpected. What I hadn't appreciated was that Windows 10 now installs all updates and patches automatically, by default, and it's not obvious how to stop auto-updates in the Windows settings.
Here are the steps I took to get my TradeStation up and running again:
Stop Windows 10 auto-updating: Type 'Run' into the Windows search box > Click on Command Prompt > Type 'services.msc' and press enter > Scroll to the bottom of the Services list, right click on Windows Update and select Properties > Under the General tab, change Startup Type to Disabled > Re-start Windows.
Rollback the latest Windows 10 patch: Go to Windows Settings > Search for 'Update' > Click on Windows Update Settings > Click on View Installed Update History > Click on Uninstall Updates > Select KB4056892 and click the Uninstall button that appears above > Wait 30 seconds or so > Re-start Windows when prompted.
Re-start TradeStation: When I re-started TradeStation everything worked fine. But in the forums some users mention having to re-install TradeStation. Hopefully this will not happen to you!
If your TradeStation is still working, your Windows system may not have updated yet. I suggest, if you're running Windows 10, that you follow Step 1 above. If you're running a previous version of Windows then temporarily stop installing any updates.
Of course, if you don't install the Windows patch your computer is theoretically vulnerable to a 'Meltdown' hack. But I'm hoping this is a temporary situation and that TradeStation issues an update very soon. And at that point Step 1 above should be reversed.
Log into TradeStation's forum and keep track of their progress on this issue by following this thread.
Good luck with your trading next week.