Yesterday's Gold and Silver video went through the weakness in US Dollar and breakout into uptrends by Gold and Silver. Today Silver really popped and closed up 5%. A classic "jumping the creek" move.
"Great call on Silver." Richard D.
"Thanks, thanks for this video about Silver. Great video, I love to watch the video, where everything is carefully explained." Dusan L.
The Silver chart has some many "picture perfect" little signals it's worth reviewing. This video is more for those unfamiliar with the 'Better' indicators and builds them up, one-by-one, on the Silver chart. Hope you like it.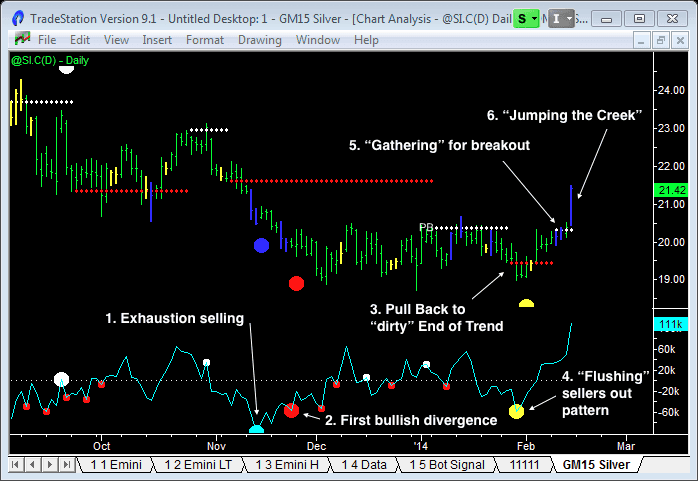 Silver Chart and Sequence of 'Better' Signals
Here's the sequence of signals on the daily Silver chart:
Exhaustion selling (silver can't turn until all the sellers have sold)
First bullish divergence (selling reduces as price continues to drop)
Pull back to "dirty" End of trend (price confirms end of trend)
Flush volume pattern (flushing out the last of the sellers)
Gathering pattern (Pro's accumulating ready for breakout)
Jump the creek (Pro's get the uptrend going, no looking back)
Click here to view the Silver chart run-through video on the website.