Before I go off on a bit of a rant in this article, I need to mention two caveats:
Many Emini-Watch followers are computer geniuses. I am not. So if I get anything wrong, please get in touch to set me straight.
This article is probably only of interest to traders who run TradeStation on an Apple Mac. But you'd be surprised, there are more of "us" than you think.
Some background. I switched to running TradeStation on an Apple Mac 5 years ago. The biggest surprise is that Windows runs better on a Mac than a PC! (You might want to read that again.) And it's been true for Windows 7 all the way to Windows 10, as this latest bombshell shows. Apple hardware and OS is superb (not so much the software, iTunes for example is garbage – and I don't care who hears me say that).
In that time I've owned two MacBook Pro 17″ computers. The last one was bought in December 2011 and came with a SSD (solid state drive) – which makes a huge difference to performance. And I've been running TradeStation very successfully on that machine now for 4 years.
But since 2011, Apple has not updated the MacBook Pro 17″. They've concentrated all their energy on laptops with screen sizes of 11″, 12″, 13″ and 15″. And the major focus has been on "retina" (high definition) displays that have a pixel density roughly twice that of the computers (and phones) they are replacing. And 15″ screens appear to be the limiting factor for "retina" quality displays – no doubt 17″ retina displays are possible, maybe just too expensive or uneconomic for Apple.
So, with no rumours that Apple was going to release a new 17″ MacBook Pro, I decided to get the latest 15″ MacBook Pro. Well, not quite the latest 15″ (that was announced yesterday) but what's called a "mid 2014" MacBook Pro, with retina display, fast processor and a decent amount of RAM.
"What do you think?" I hear you say. "Give us the pros and cons."
Con #1: Retina display resolution is wasted on TradeStation
Lost 23% of My Screen Real Estate with a 15″ Display
This is a big deal and I wish I'd understood this before making the switch. "TradeStation is hard-mapped and does not scale like a normal graphics program." What this means is that if you set your display to "retina" definition with TradeStation, the lines (text characters, all graphic elements, etc.) will just be thinner – not any higher definition.
Normally what a program does in "retina" definition mode is draw the line (text character, etc.) thicker and with 4 times the number of pixels, so it appears smoother. Remember 4 times because it's 2 times the pixel density both vertically and horizontally. TradeStation is still "old school" though and doesn't appear to take advantage of the higher pixel density – and things look really bad.
Yes, you can adjust all your charts to have thicker lines and larger fonts. But the drop down menus, indicator inputs, title bars, etc. will all appear in a small font – and there's no way to control these elements. The result is a graphic mess. And the only solution is to turn off "retina display" in Parallels (the program controlling Windows in your Mac environment).
And once you do that, the screen size you're left with is 1680 x 1050 pixels. Which is less than (23% less than) the 1920 x 1200 pixels I had in my MacBook Pro 17″ machine. Even though, theoretically, I could get a resolution of 2880 x 1800 pixels with a retina display.
So although I knew my screen would be smaller with a 15″ display – I hoped that the higher resolution of a retina display would make the screen "feel" just as large as my 17″ display. And since I can't use retina pixel density with TradeStation, I'm just left with a smaller screen.
Crystal clear. Right?
Con #2: Windows 8.1 is "fugly" and Parallels 10 is a mess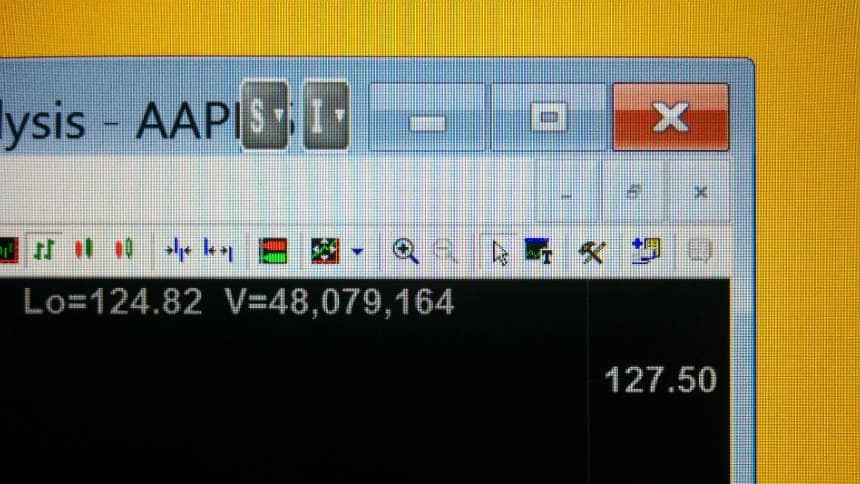 TradeStation 9.5 in Windows 8.1 on a Retina Display is Just "Fugly"
Now this story is going to make you laugh (me, I cried). When I upgraded my tech I chose to upgrade 4 things, all at the same time:
TradeStation 9.1 to 9.5
Windows 7 to 8.1
Parallels Desktop 9 to 10
MacBook Pro 17″ to MacBook Pro 15″ with Retina
Big mistake – and I should know better. I just wanted shiny new stuff on the new hardware. Well, when I finally managed to get everything across onto the new machine – it just looked like crap. I thought Parallels was maybe screwing some things up. I also thought that maybe the screen resolution settings needed tweaking.
The screen shot above shows a little of the problem. The "S" and "I" drop down menus in TradeStation were being distorted. The window controls were vastly different sizes. The font sizes were all over the place. It literally took me 4 days to work my way through it all.
And do you know what the problem was? Windows 8.1 is just plain "fugly". I hadn't really screwed things up – it just looked so damn bad because Windows 8.1 looks so damn bad!
There are too many Windows "nasties" to list. Whoever designed that graphic UI – whatever team was responsible – should never be allowed to design any UI again. They had to work really hard to make something so awful. (feel the rant now?)
On top of that – sorry Parallels – but you made things worse. Your UI is overly complicated and your product should include a Windows user license and download. Microsoft no longer distribute an ".iso image" of the OS and that is the starting point for using Parallels. Catch 22. Come on Parallels, sort it out – stop adding bells and whistles that no one wants.
Con #3: TradeStation 9.5 improvements look superficial
OK, I'm calming down a bit now. Onto TradeStation and the new version 9.5 … Silence.
What is the big deal? Maybe it all happens behind the scenes – and nothing wrong with that – but I don't see or feel much difference at all. The announced changes include improved graphics and faster optimizations. Great. Thank you.
But honestly, I hardly notice anything different. Which is probably a good thing. I love TradeStation and (like the song says) I really don't want them to change. So maybe the title ("improvements look superficial") is a little harsh. And maybe it's the things in the background that I can't see that are working for me. Certainly no crashes, data outages, glitches, etc. to mention.
And the 'Better' indicators rolled across from TradeStation 9.1 to 9.5 without a problem. So if you've been waiting for a green light to upgrade – I now recommend you do.
Pro #1: TradeStation runs quicker and quieter with more RAM
So those were the "cons". Now the "pros". My new MacBook Pro has a number of upgrades. I've gone from:
2.4 GHz i7 processor to 2.8 GHz (with turbo boost to 4.0 GHz) i7 processor
8 GB 1333 MHz RAM to 16 GB 1600 MHz RAM, and
250 GB to 500 GB flash (SSD) drive
The machine feels faster and TradeStation runs faster. Not by much, maybe 10%. But noticeable. The improvement in RAM is particularly good. My old TradeStation would occasionally "stutter" and Windows would show a "low on memory" error message. Not had any problems like that, so far.
And there is virtually no fan noise. Only heard the fan kick in once, during the last week. Over-heating and over-active fans can be an Apple issue, but this machine appears to be quick and quiet.
Pro #2: The 15″ MacBook Pro is 1 kg lighter than the 17″
The MacBook Pro 17″ wasn't really a beast – it weighed in at 3 kg. But this 15″ machine is only 2 kg. Now that's light! And very portable.
Most people won't care, but we travel quite a bit and having a lighter machine is a nice convenience. It also gives me the option to maybe think about a dedicated trading laptop or second screen – if the screen size issue becomes a deal breaker for me. We'll see.
Pro #3: It's good to clean house once in a while
In the past I've recommended re-installing your OS and programs every 6 months. But in the last couple of years, software has become more stable and less prone to slowing down over time. So that advice looks a little over-zealous.
However, a new machine is always a good opportunity to clean house and keep things lean and mean. The big thing that I'm changing with this new computer is using cloud storage for my documents. So rather than keeping documents and files on my hard drive, I'm using Google Drive.
Now, this is a little scary at first – not having "physical" files on your computer takes some getting used to. But I've been slowly building up to this and had a Google Drive account for over a year. Gradually I've been moving more and more onto the Drive.
I still use my desktop for "current" matters – working on documents, graphics, code, lists, etc. from the desktop – but as soon as the matter is completed, it's filed away on my Google Drive. And the Drive folder looks like part of the OS, so it's virtually seamless.
We'll see how this work out. It feels like a little bit of an experiment (and unnatural) at the moment. Probably what we all felt going from paper to electronic, back in the day.
Conclusion: Was it worth the effort (and bring back 17″)?
As I get older, my eyes get worse and worse. Some of you might have heard of Tom Williams from TradeGuider. He's a great guy – actually lives down the road from my mother in the UK. But he's losing his sight and I worry that it's the result of studying trading charts and spending too much time in front of the computer.
I really miss my 17″ screen. If Apple every decide to revise the 17″ MacBook Pro, then I'm there. It was a real work horse and I can't believe that it carried me for 4 years – and really probably had another year in it. The faster (and fan-free) computer is certainly great to have – but it's the screen size that has me worried. Maybe I should be considering a second screen. I'll keep you posted.
Good luck with your Emini trading this week.