If you are trading breakouts then look for these 4 confirming signals.
Trading breakouts is risky. You're entering at an extreme price and the market can easily and quickly move against you. But if you get it right, you can be jumping on board a breakout into trend – the market moves quickly and the profits come easily.
Today's video was prompted by a great email from Trey, talking about how Amateurs love trading breakouts – and are often wrong. It happened to arrive on a day when I took a breakout trade at the open that turned into a nice OSOK (one shot, one kill) for 4 points.
"Just wanted to drop you a note and let you know how much your indicators have helped me and my trading education …

… After I bought the indicator package, it was immediately obvious why I was getting beaten up so much. I was nothing more than the typical amateur trader, trading for the breakout. There had been hints of this as I watched your videos, but now it was laid bare in front of me. Looking at a chart without your indicators, I would say to myself 'I'd sell short here, this is about to tank'. Then I would look at one with your indicators and see that I was selling into cyclical support. Just another chump for the pros to buy into. That realization hurt …

… I'm seeing progress, and that keeps me going. I have confidence that I can do this with enough hard work, and your indicators have given me that confidence. I hope the next time I write you, it will be as a profitable trader." Trey
So why did this breakout trade work? And what signs should you look for?
1. Professional activity prior to breakout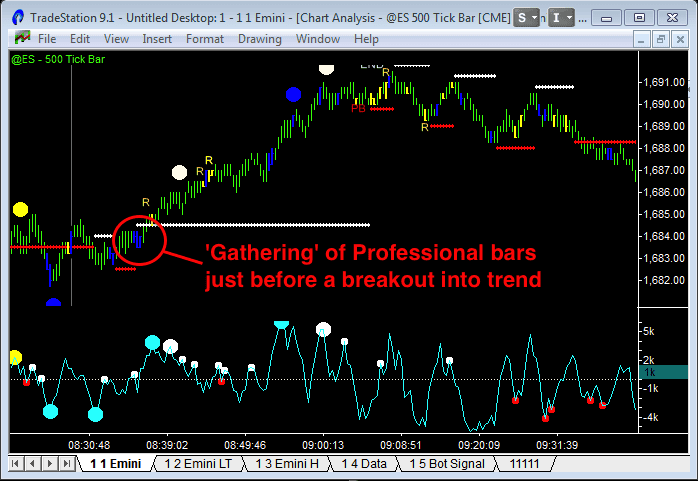 A successful upside break will be preceded by Professional activity (blue bars) on any dips. Professional blue bars on the 1500 tick chart are a must – don't go if you've not seen Professionals active on the 1500 tick chart. And on the 500 tick chart you might also see a "Gathering"of blue Professional bars just under the breakout resistance level. (Reverse these rules for a downside break.)
2. Support/Resistance levels on multiple timeframes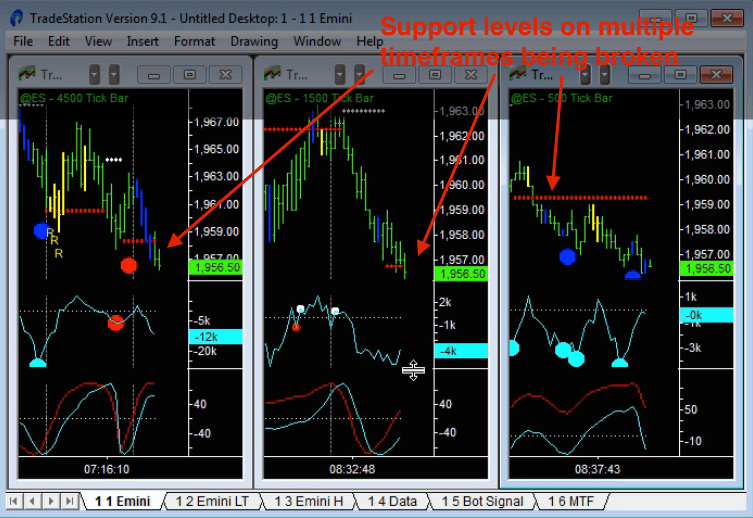 The strongest upside breaks will happen when you have resistance levels on the 500 and 1500 tick charts close together and being broken almost simultaneously. In the video example above, the resistance levels were only 1 point apart.
This works because the move will not be "caught" or stopped by a resistance level in the next timeframe up. Again, in the video above, the move slowed down (but didn't stop) when the 4500 resistance level was reached – 8 points above the breakout point. (For a downside break follow the same advice, but look for support levels close together.)
3. Daily bias in direction of breakout
Today's upside breakout had cyclical support on the daily chart supporting it. Yesterday, there was an upside breakout at the open that failed – and on that day we had a downside bias. Daily bias can be tricky to figure out and is only ever a guess – so don't let it stop you taking a trade if #1 and #2 are in place.
4. Be cautious if you see a 'RAMBO' pattern
And finally, watch out for RAMBO (potential "Reversal of an AMateur BreakOut") patterns, particularly when they come with exhaustion volume. They show the breakout is being led by the Amateurs (low average trade size) and is suspect. At the very least the breakout will lose energy after a RAMBO pattern. And if the pattern happens in the "shadow" of a previous high/low they're great places to fade (go in the opposite direction of the short term trend) the breakout.
I hope you found this video and article helpful on trading breakouts.