Stopping Volume Patterns on Dow (St = stopping volume)
Friday saw Stopping Volume patterns on all the stock market indices. Stopping Volume occurs when the volume is greater than the previous day (or bar) but the range is less than the previous day (or bar). This volume pattern signals a pause in the current trend and beginning of a pullback, sometimes leading to a complete trend reversal. The daily Dow chart is shown above.
Stopping Volume Patterns on NASDAQ (St = stopping volume)
The NASDAQ has been the strongest of the markets over the last month. The Stopping Volume pattern also appeared on Friday's NASDAQ. See the chart above.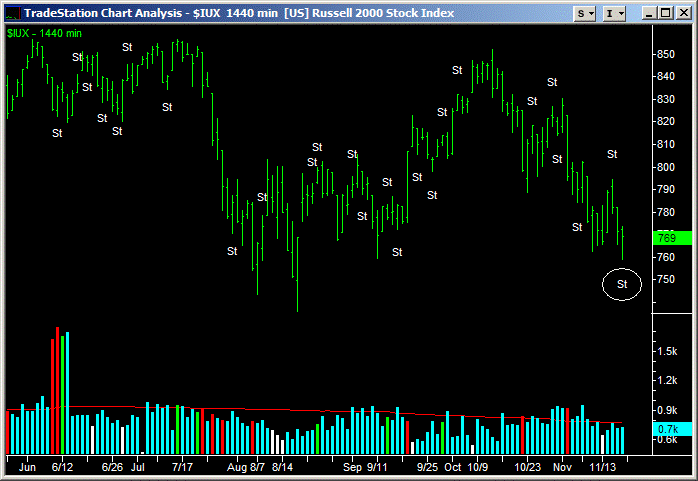 Stopping Volume Patterns on Russell (St = stopping volume)
Finally, the chart above shows the Russell with Stopping Volume pattern on Friday.
I'm not convinced that the current down trend in the Emini is over, however, we might see a pullback this week. In addition to Stopping Volume there are other positive signs:
Versus the Bond market the Emini is over-sold
Bond market staged a strong rally 20 days ago
TRIN divergence on Friday (positive TRIN but Close < Open)
Yen appears to have made a higher low and could start trending up
Thanksgiving this week and markets tend to be strong going into a holiday
And back from visiting Egypt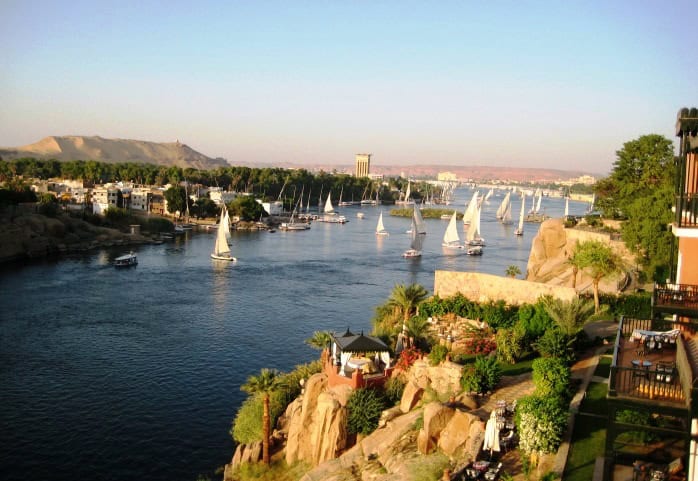 And finally, we're back from a month traveling in France, Italy and Egypt. Thank you for everyone's patience and hope your trading is going well.
Highlight was the Old Cataract Hotel in Aswan overlooking the River Nile. This was the setting for the movie of Agatha Christie's "Death on the Nile" – totally relaxing and highly recommended. View of the Nile at sunset from the hotel shown above.
Good luck with your Emini trading.