Weekend Chart Roundup – Sunday 27 May 2012 (12:43)
Hope your Emini trading went well this week and, if you're in the US, you're enjoying some time off this Memorial Day long weekend.
This week the Emini found a bottom, tested it and in Sunday evening's trade we're trying to break into the 1,320s. We might run a couple of days but on my longer term charts we're in a down trend.
Psychologically the next cyclical resistance level on AAPL will be critical. Plus FB is trying to hold $31 and bounce. Let's see where the Professionals choose to take profits and get out or Short.
The question is: Was this move from 1,420 to 1,290 the first down leg in a bigger move? Are we at the beginning of a 2007/8-style crash? In the chart roundup video above I can't find much good news.
Emini-Watch changes hosting
This week I moved website hosting for Emini-Watch. Not a totally painless exercise – discovered a lot of glitches that needed to be fixed. And there are still some to be resolved.
You might find the Contact Form still down. Plus some of the external links might be broken. They'll all get fixed in due course, just bear with me.
On the plus side, you should find the site significantly faster to load and navigate around. I do hope so – over the years the site has slowed to a crawl and radical surgery was necessary.
Live your dream …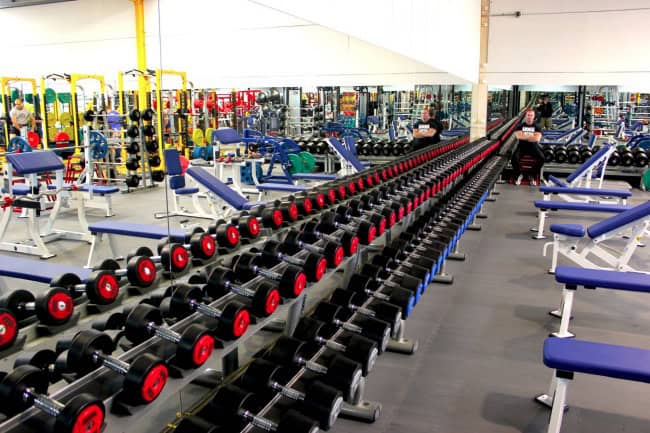 Mark Patience with his "Wall of Weights" or "Death by Dumbbell"
I've know Mark Patience for over 14 years and he's a great friend. During that time he always talked about owning his own gym, how he would do things differently, what gear he would buy, etc.
Well this week, Mark's dream finally came true. He now owns the best gym in Sydney, Kingdom Gym. And the gear is just unbelievable – mostly top-of-the-range Hammer Strength. The shot above is the dumbbell rack – and it's not an optical illusion!
Whether you want to run your own gym or trade Emini futures for a living: Have a dream and spend every day taking one step closer to achieving that dream.
Good luck with your Emini trading.