End of Trend Signal (Emini 27 minute)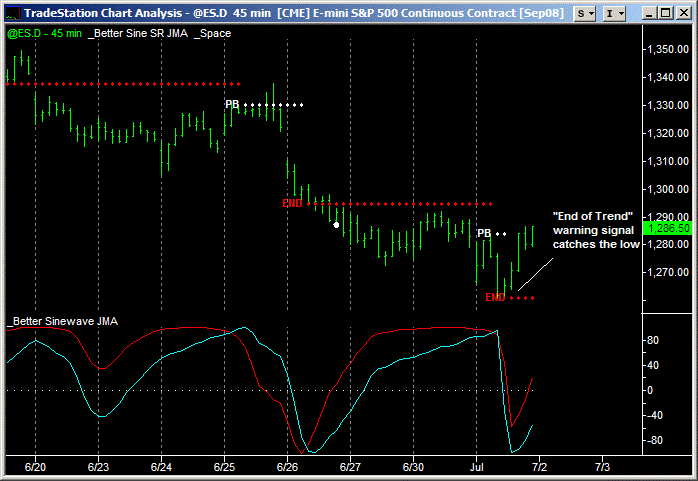 End of Trend Signal (Emini 45 minute)
High Volume Reversal (Emini 81 minute)
We had "End of Trend" signals on multiple time frames catching the Low of the day. The charts above show the 27 minute (15 bars per day), 45 minute (9 bars per day) and 81 minute (5 bars per day) charts. The "End of Trend" signals are plotted automatically by the Better Sine Wave indicator.
It was also a Larry Williams Oops pattern today on very high volume. The Oops pattern conditions include today's open below yesterday's low and today's close above yesterday's low (or close). The pattern signals panic by the general public and professional traders stepping in to take advantage.
Today's Oops pattern was "stronger" than normal with:
Open below the low of both yesterday and the day before
Close above the close of both yesterday and the day before
Very high volume of 3.2 million contracts traded
Now the Better TRIN swing trading systems have also signalled Long, entering at both today's Low and Close. My best guess is that we'll get a pullback early tomorrow and I'll be watching the 1,280 level. Then a continuation of this short covering reversal.
Markets have a tendency to rally at the beginning of the month and into a holiday. However, we're still in a down trend and the weekly Better Sine Wave still needs to make a cyclical Low.
Good luck with your Emini trading.