Don't expect house prices to just keep on going up.
House prices are probably the last thing you want to talk about if you're underwater on your mortgage. On the other hand, if you live in San Francisco, London, Berlin, Paris, Hong Kong, Singapore, Sydney, etc. you might be thinking how high can house prices go?
This video has been rattling around in my head for the last 18 months – after a conversation with a very smart man about London house prices. And his outlook has proved right – London house prices rose 13.8% last year. But can it continue?
Rising leverage has led to exponential house price growth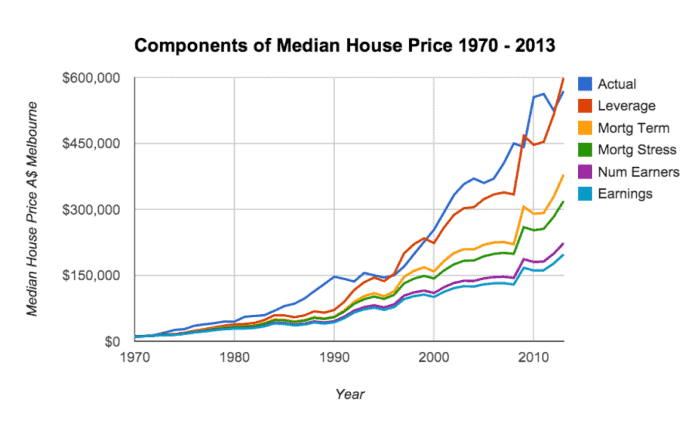 Components of Median House Price Growth in Melbourne (1970-2013)
Australian house prices and the housing market in general is not that dissimilar from the rest of the developed world. And the conclusions drawn apply equally to most capital city housing markets around the world. Yes, there are regional subtleties, but the role lending criteria and LVRs play is totally underestimated in this whole property "bubble" discussion.
And don't forget, virtuous feedback loops or virtuous circles can just as easily reverse and become vicious.
Update October 2014 – Chinese vs Australian Leverage
Two recent articles showing the difference in attitude towards leverage between Chinese property buyers in Australia and local Australians.
Chinese buyers typically put 50% down and then apply for a mortgage for the remaining 50%. This article describes the experience of Yellow Brick Road, a mortgage lender part-owned by Macquarie Bank, that offers Australian mortgages to Chinese overseas buyers. These aren't Chinese billionaires moving money offshore – they're successful Chinese business people who want to put their children through university in Australia and are typically buying student apartment accommodation.
On the other hand, the big 4 banks in Australia now all offer zero-money down mortgages. This article explains that the mortgages have to be guaranteed by a family member. And likely those family members are feeling pretty flush because their house keeps on going up in value – as a result of this crazy bank-led Ponzi scheme.
What Emini-Watch followers had to say …
Steve H. pointed out that I hadn't mentioned the role of foreign cash buyers at the high end of the market. This has definitely impacted prestige suburbs in London, Paris, Berlin, Munich, Hong Kong, Singapore, Sydney, etc.
"Fascinating piece – thanks for sharing your thoughts. I don't disagree with anything you said, but I do think you overlooked a key factor which in the markets you highlighted might be (almost?) as important as rising LVRs: incoming waves of relatively footloose foreign money, quite a lot of which probably doesn't rely all that heavily on mortgage finance.

I'm in the UK, and the role of foreign money in the London market has been very obvious. The influx of Russian cash in particular has been phenomenal over the last few years. I have no personal knowledge of Australian markets, but there seems to be a lot of 'lather' about Chinese money finding its way around FIRB restrictions. Singapore has started penalising foreign purchasers, as I'm sure you know, and a relative of mine who lives in Berlin tells me the place is awash with foreign cash buyers."
In the US, Carol D. pointed out she was also seeing cash buyers in her home market, Austin.
"I'm in Austin and the housing market here is booming … A lot of the people we are seeing in my neighbourhood are Asian, mostly Korean, Chinese, and Indian, and all or mostly cash offers are common."
And John B. confirmed the German property market boom.
"The rush into Munich real estate has been going on for several years. Munich and Stuttgart are probably even worse than Berlin, in that sense, Munich is most expensive in terms of price per square meter.

Last year, there were some reports on TV about real estate buyers from UK and France who were looking at Berlin properties because prices there were still low compared to London or Paris. For example they interviewed a French executive who found his budget only allowed him to buy a small one bedroom flat in Paris. He opted instead for a generous, brand new 3 bedroom flat in Berlin, as a rental investment, more than twice the size, and better ROI.

But compared to France, Germany is still relatively cheap. Not only Paris, but most major cities (Lyon, Bordeaux) and tourist areas (Nice, Cannes, Cote d'Azur) are at or above the most expensive places in Germany."
Lastly, some big picture demographics
Maybe the last word should go to Harry Dent. From his latest book, The Demographic Cliff:
"The US (and almost all developed countries) experienced the greatest real estate boom in modern history, initially as a result of being home to the first middle-class generation that could broadly afford homes after World War II, and then as a result of the massive Baby Boom generation, which now clearly has peaked and is being followed by a smaller generation.

The result was to create a temporary illusion that real estate only goes up and it outperforms economic growth. The great real estate boom from 1933 to 2005 will not be seen again anytime soon – and perhaps never – in the developed countries.

Instead, we go back to the old model: own real estate because you love it and want to live in it and improve it long-term, or because it is strategic to your business. Or invest in it if you can rent it out for positive cash flow. But don't buy real estate because you think you are going to get rich sitting on it."